Beautiful Barley Flower Tower completed after community effort
25-06-2021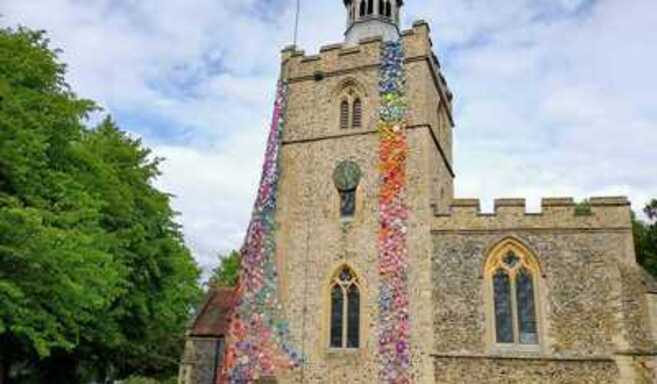 After months of knitting, crocheting and stiching, the beautiful Barley Flower Tower is complete and St Margaret of Antioch Church is adorned with a colourful display of flowers.
Barley resident Alison White, who runs the Barley Knitting Group, came up with the idea to keep everyone going through lockdown by busying themselves creating the beautiful blooms to decorate the church, and raise some much-needed funds.
She encouraged the community to help make flowers for display, originally aiming for 500 to be created. Inspired by her idea, contribrutions were made by community groups including the Barley Tennis Club and Barley Gardening Club, the beavers and cubs, Margaret House care home residents plus individuals living locally and as far away as USA and Australia.
In June, the 1452 flowers, which took four weeks to be stiched onto netting by a team of 12, were hoisted onto the 15m tall church tower and draped from the windows, with the help of Royston Fire Station.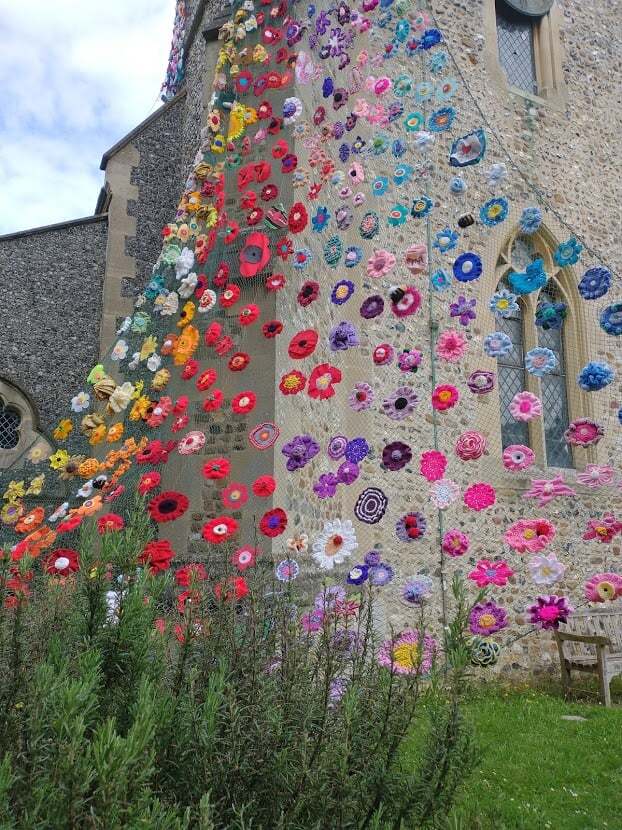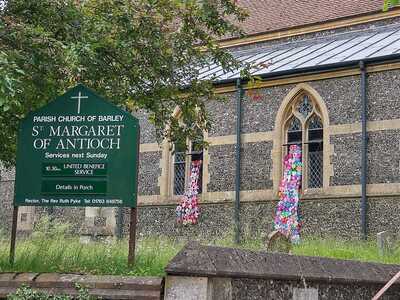 It is hoped the display will inspire people to make a donation towards the running of the church - and also to help expand its use to the community. Ideally Alison would love to raise £10 per flower.
The church's Rector, Ruth Pyke, told BBC Look East: "The money will be used to maintain the building so it can continue to be a warm, welcoming place for weddings, funerals and Sunday Worship, but beyond that we want it to be a place for the community. We have a vision for disabled access and an area where we can welcome people in for coffee mornings, exhibitions and concerts."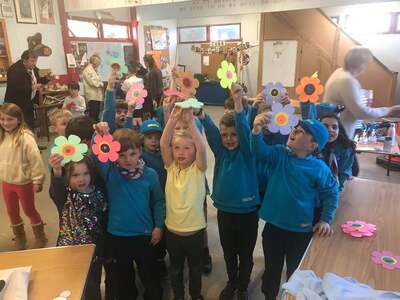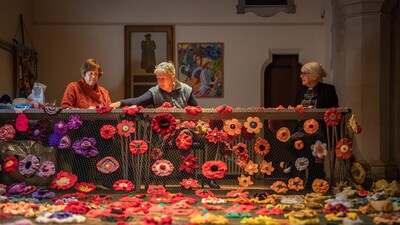 To donate towards the incredible display please visit the Barley Flower Tower Justgiving page, or visit the donation boxes located in Barley Stores, Fox and Hounds pub, Chequers pub or Drayton's Garage.
Visit the Barley Flower Tower Facebook page for more photos, videos and information.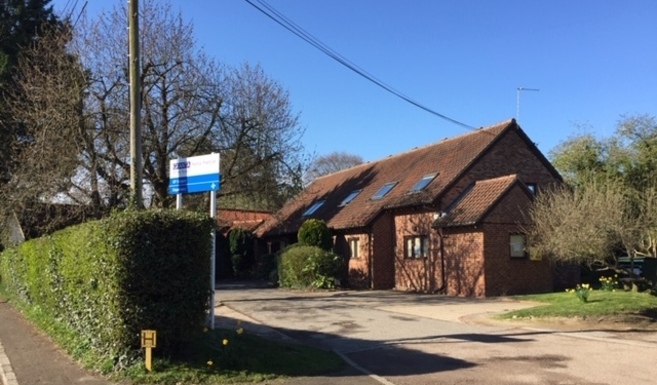 19-01-2022
Covid Vaccine Update
On 13th December 2021 the government announced that the deadline for every adult to have been offered a covid booster was being brought forward from 31st January 2022 to 31st December 2021.
Granta staff stepped forward to support the "Omicron Emergency Booster National Mission" to encourage everyone who is eligible to "get boosted now".
Between 15th December and 3rd January an extra 7,000 Granta patients were vaccinated. Staff worked the 3 bank holidays, in addition to squeezing extra vaccine clinics into their normal working days, to ensure that as many patients as possible were vaccinated before the new deadline passed.
New Hospital Helpline for Patients
The Covid-19 pandemic has added to the strain on all NHS services. As a result of this, waiting list times for outpatient and specialist appointments and procedures have increased for everybody.
This can cause worry and uncertainty about when you will eventually receive an appointment, and unfortunately Granta has no direct access to the hospital appointment lists.
If you have been referred by your GP / are waiting for:
An outpatient appointment
An appointment for hospital tests (e.g. scans)
A date for an operation or other treatment
A follow-up from your hospital team
and you have a query about what is happening, there is now a new dedicated Freephone Patient Help Line - 0800 048 5800.
May we respectfully ask that you only call Granta if your condition has genuinely deteriorated, when you will be reviewed by one of the clinical team and appropriate action can be taken in regard to your hospital care.
Thank you for your continued understanding, patience and support.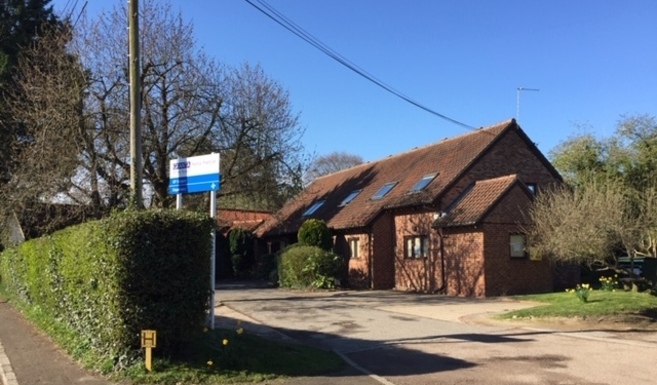 28-12-2021
At the time of writing this piece, we are experiencing a high level of staff absence. We have no doubt that this will continue as Covid, flu and norovirus continue to take their toll over the winter months, combined with ever-changing Covid guidelines. We will continue to try and provide the best possible service we can to all of our patients, but please bear with us as day-to-day operations may be disrupted. Below are some hints and tips to help you help yourself and in turn help us and the NHS:-
SELF-CARE: You can treat many minor illnesses such as colds and coughs, sore throats and upset stomachs at home. Make sure you are stocked up with healthcare essentials such as pain relief (e.g. Paracetamol), cough and sore throat remedies, upset stomach treatment, rehydration treatment, heartburn / indigestion treatments and a first aid kit.
USE YOUR LOCAL PHARMACIST: They can offer you advice and guidance on your symptoms and on the best treatment for you - no appointment needed. Pharmacists are available on every high street and in supermarkets, with many being open in the evenings and at weekends.
USE THE NHS UK SYMPTOM CHECKER www.nhs.uk: This helpful tool can guide you through your symptoms and direct you to the most appropriate health service for your needs.
RING NHS 111, OPTION 2: If you are experiencing a mental health crisis this First Response Service puts your mental health first. It provides 24-hour access, 7 days a week, 365 days a year, to mental health care, advice, support and treatment.
If you have done all you can but feel that your problem remains unresolved, please do ring us and we will be happy to help you.
MEDICATION: If you need to order medication, please do this online via SystmOnline or the Airmid app. Details of how to do this can be found on our website
www.grantamedicalpractices.co.uk If you do not have internet or mobile telephone access, you can send in your repeat medication slip or write in with your repeat request. Unfortunately, we cannot take prescription orders over the telephone.
Thank you for your continued understanding, patience and support.