Those who fell in World War One…
12-11-2018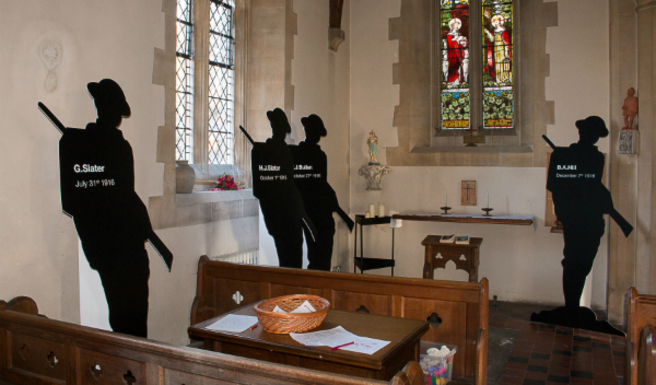 The stories of soldiers from Barley who died during World War One, accompanied by silhouettes produced in their memory on the 100th anniversary of the 1918 Armistice.
Francis William Bullen
July 17 1915
Francis was a young gardener and the son of Benjamin and Emma. He lived at Shah Public House on the corner of Picknage Road. He enlisted with the 1st Worcesters. He was wounded by German shelling in the fighting near Armentieres in 1915, where the 1st Worcesters lost over 200 men. He was evacuated to Bristol and two days after he arrived at Southmead Hospital, he had one of his feet amputated, but not withstanding every attention, he died on July 17th 1915. His body was brought back to Barley and interred in the parish churchyard with what military honours were available under the circumstances, the coffin being borne to the grave by men of the RFA. He was 18.
Harry Moulton
November 5 1915
Harry Moulton was the son of John and Emma of Hillside, Sawston. Harry was Barley's young butcher and ran his shop, with his sister, at the top of the High Street where Richmond's Garage now stands. He was one of the very first to enlist when on August 5th 1914, he travelled with his pals on George Smith's waggonette to Royston. After basic training he was seconded to the 8th Battalion Norfolk Regiment. Promoted to Corporal, he died (aged 22) attacking a heavily defended German stronghold in the shattered remains of Delville Wood, and is buried at the Albert Communal Cemetery.
(Arthur) Frank Sermons
February 12 1916
Arthur (Frank) Sermons was the son of Fred and Annie of 4 Council Houses, Barley. Frank was Harry Moulton's assistant at the butcher's shop. He enlisted as a private into the 10th Battalion, The Royal Fusiliers (the so called 'stockbroker battalion', largely made up of city employees). He was killed aged 22, by shrapnel from a shell at the southern end of the battlefield in the Battle of Arras on 12th February 1916. He is buried in France.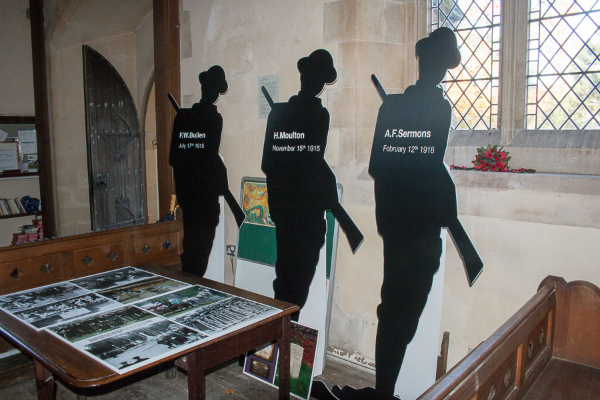 Geoffrey Slater
July 31 1916
Geoffrey Slater was the son of Thomas and Sarah of Church End. Geoffrey enlisted in Royston as a Private in the 1st Battalion, the Bedfordshire Regiment. After 15 months on the Front line he was killed in action aged 21, in Flanders on 31st July 1916. He is buried in France. ln a letter to his parents, his commanding officer describes him as one of his best men, doing his duty thoroughly to the end.
Joseph (Howard) Slater
October 1 1916
Joseph (Howard) Slater enlisted in Hertford as a Private in the Hertfordshire Regiment later transferring to the 6th Battalion Princess Charlotte of Wales (Royal Berkshire Regiment). He was killed in action aged 30, at the Battle of Ancre Heights in the Somme, on 1st October 1916. He is buried near his brother, Geoffrey, in France.
Ernest John Bullen
October 27 1916
Ernest John Bullen (brother of Francis) was born in Wimpole, but had lived in Barley for some time. Ernie originally joined the Northamptonshire Regiment transferring to the Labour Corps and then Durham Light Infantry, whilst at Halifax, transferring for a last time to the 2nd Battalion of the Duke of Wellington's Regiment. He died of wounds received during the Battle of the Somme and was buried in France.
William Thomas Peachey
November 13 1916
William Thomas Peachey was the son of Allen, and had worked for Ellis Wilkerson at Manor Farm. He enlisted in Hertford in the first months of the war as a Private in the 1st Battalion Hertfordshire Regiment. He went out to the Front in February 1916, and was killed in action at the Battle of the Ancre on 13th November 1916. He is buried in France. He was aged 22.
Benjamin Alfred Hill
December 7 1916
Benjamin Alfred Hill was the only son of Mr and Mrs Trigg of the Three Crowns, Shaftenhoe End. He enlisted in Bedford, a Private in the Battalion of the Duke of Cambridge's Own (Middlesex Regiment). On September 24th he was wounded in the right hand but, after treatment, he returned to the trenches. On November 20th he was gassed and sent to Boulogne Hospital to recover. He returned to the front for a third time but, at the age of 25, he died of further gas poisoning on 7th December 1915. He was returned to Barley and was buried in the village with semi-military honours.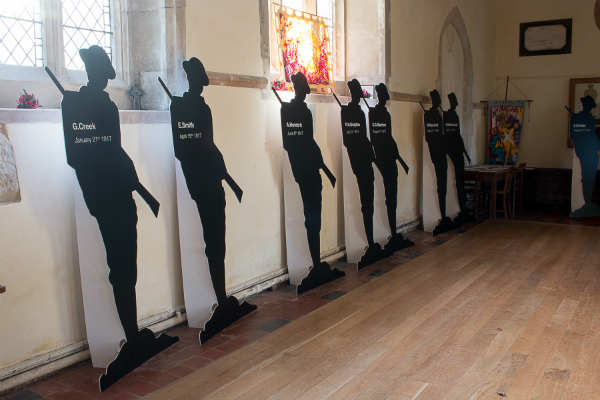 George Creek
January 21 1917
George Creek was the only son of George. He was an agricultural worker in Barley before enlisting in the Bedfordshire Regiment in 1914 as a private. In April 1915 he was posted to France, and in May was wounded and brought back to England where he spent eight months in hospital in Nottingham. On recovering, in January 1916 he was transferred to the 5th Battalion where as a Lance Corporal he was posted to Mesopotamia (lraq), serving with the Mediterranean Expeditionary Force. On the 17th January 1917 he was wounded for a second time, facing Turkish forces on the Tigris River in the Basra area. This time he succumbed to his wounds and died on 21st January. He was 24.
Ellis Smith
April 15 1917
Ellis Smith was one of Tom Savell's farmhands and lived at Horseshoe Farm, Barley. He enlisted in Bedford with the Middlesex Regiment before transferring to the 11th Battalion, the Border regiment (known as the Lonsdale Pals). Aged 22, he was killed in action on 15th April 1917 fighting at Arras. He is buried in France.
Arthur Howard
June 8 1917
Arthur Howard was the son of Arthur and Sarah, from Flint Cottages, Church End. Arthur had worked for Ellis Wilkerson at Manor Farm before enlisting at Hitchin into the Bedfordshire Regiment, but later transferred to the Loyal North Lancashire Regiment as a stretcher bearer. He was killed in action, aged 30, along the Arras to Cambrai Road sector on 8th June 1917. He is buried in France. After he died, Lance Corporal Mather wrote to Arthur's sister saying 'he suffered no pain, death was instantaneous. I can assure you he is greatly missed as he was always a willing worker and always cheerful. As your brother lived so he died, a soldier and a man'.
Percy Horace Drayton
July 31 1917
Born in May 1879, Percy Horace Drayton was the son of Joseph and Alice from Smith's End Barley. He had been a horse keeper before becoming a professional soldier, having enlisted at Walthamstow in 1902 as a gunner with the Household Cavalry and Royal Artillery. His service record showed he had got into a few scrapes: he was reprimanded for being out after curfew in Canada (eight days confined to barracks); for causing a disturbance in a girl's school at night in Allahabad (14 days detention); and was disciplined twice for drunkenness in 1903. He was hospitalised with both diphtheria and malaria. As he was already in the forces, he was discharged as "time served" in 1915, however he re-enlisted. In 1917, whilst helping a badly wounded sergeant, he was shot in the head and killed instantly. An officer writing to his widow stated that he was "one of the best and bravest in my platoon. During the attack his courage was the admiration of all". He is buried in Belgium.
Charles George Machon
August 4 1917
Charles George Machon was the son of George from Church End Barley and later of the chequers Anstey. He enlisted at Enfield (where he had been employed at Enfield Lock), and was a private in the 7th Battalion, The Buffs (East Kent Regiment). He was killed in action at the Third Battle of Ypres in 1917, and is buried in France. He was 35.
William James Mansfield
March 21 1918
William James Mansfield was the son of Albert and Rebekah of Smith's End. He enlisted at West Ham as a Lance Corporal in the Essex Regiment. At the age of 23 he was killed in action during the German final offensive at the Battle of St Quentin on 21't March 1918. British losses at this battle were 177,739 and the Germans lost 348,300. He is buried in France.
Harry Mansfield
April 17 1918
Harry Mansfield enlisted in Hitchin as a Private of the Bedfordshire regiment. He was transferred to the 1st Company lnfantry Machine Gun Corps. He died aged just 20 of wounds received during the German Spring Offensive 17th April 1918, probably at Mt Kemmel, during the battle of the Lys. He is buried in France.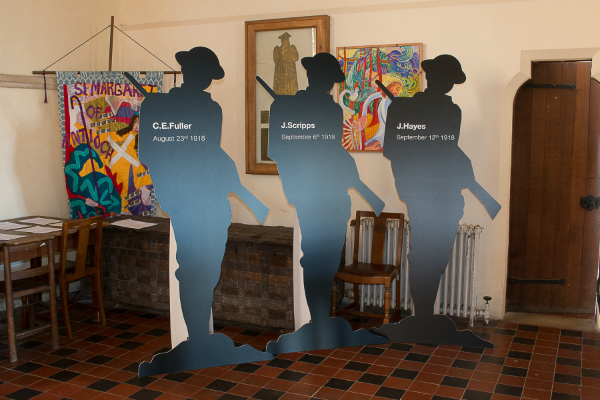 Charles Edward Fuller
August 23 1918
Charles Edward Fuller was the son of Robert and Ann of Smith's End, Barley. Charlie enlisted in Bedford with the Bedfordshire Regiment. He was killed in action in the British assault at Achiet le Grand railway cutting on 23rd August 1918 and is buried in France.
John Scripps
September 6 1918
John Scripps enlisted at Tottenham, where he joined the Bedfordshire Regiment. He was seconded to the 10th Battalion, the Hampshire Regiment, where he died of his wounds on 6th September 1918 at the Battle of Roche Noir near Salonika in Greece, and is buried in the Karasouli Military Cemetery, in Greece.
(Charles) John Hayes
September 12 1918
Charles Hayes (known as John) lived in Smith's End, Barley. He enlisted in Royston, and became a Lance Corporal in the Hertfordshire regiment. He died of his wounds fighting alongside the New Zealand Division on the Hindenburg Line at the Battle of Havrincourt on 12th September 1918. He is buried at St Aubert British Cemetery.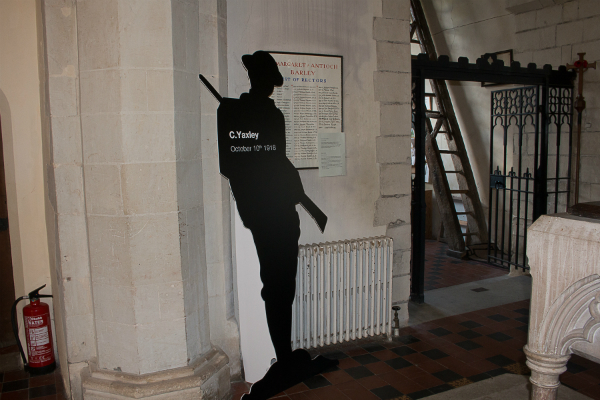 Charles Yaxley
October 10 1918
Charles Yaxley was born in Sandringham, Norfolk. He had lived in Barley for some time, when in 1915 he enlisted at London Colney as a Private of the 5th Norfolk Regiment. He later transferred, and became a driver with the Royal Army Service Corps serving in France through the second half of 1915. In December that year he was sent to Salonika in Greece before moving to Egypt. He unfortunately contracted pneumonia, aged 35, and died in Egypt on 10th October 1918. He is buried in Damascus. He was described as popular with all his comrades.
Arthur Scripps
November 2 1918
Arthur Scripps enlisted in Royston, and joined the 3rd Battalion, the Grenadier Guards. He died in the Capelle region of Flanders on the 2nd November 1918 just 7 days before Armistice Day. He is buried in France.
And in World War Two…
Ronald Eric Nineham
Killed in Action July 8 1944
Ronald Nineham, born in 1925, was a sergeant in the Royal Air Force Volunteer Reserve. He was a tail gunner in a Lancaster of 49 Squadron. According to Bill Tack, his pal: "He appeared to enjoy it. Ronnie volunteered to go on a mission in place of a friend who had been taken ill. Never have the words, 'Greater love hath no man than this, that a man lay down his life for his friend', been more true than on that day". On the 7th July, 1944, 5 Group was on a mission to attack the V1 rocket base at St Leu, with a force of 208 Lancasters led by Pathfinder Mosquitoes. They accurately bombed the tunnels in which the flying bombs were stored, but at a terrible cost; with 29 Lancasters and two Mosquitoes lost as German night-fighters took their toll. Ronnie Nineham's Lancaster, on just its fourth operational mission, was shot down by an ME 110 night-fighter at Beauvoir-en-Lyons, with all seven crew lost. He was aged just 19. He is buried in France.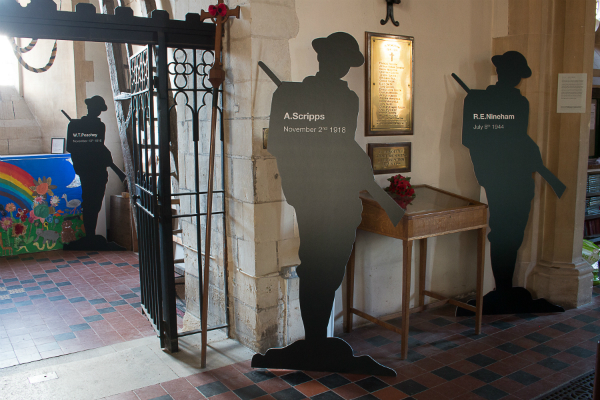 Thank you to Chris Allen for all his research into the history of the men, and to Richard Bland and Geoff Cash for their work producing the poignant silhouettes.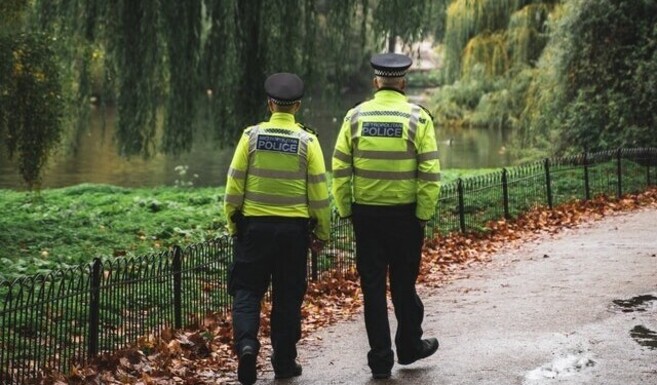 15-06-2020
In June's issue of the Royston Rural Watch newsletter from Herfordshire pollice, dog owners are warned to take care following an increase in reports of people being intimiated by dogs, the latest on distraction mobile phone thefts and an update to the forces working practices during the covid-19 pandemic.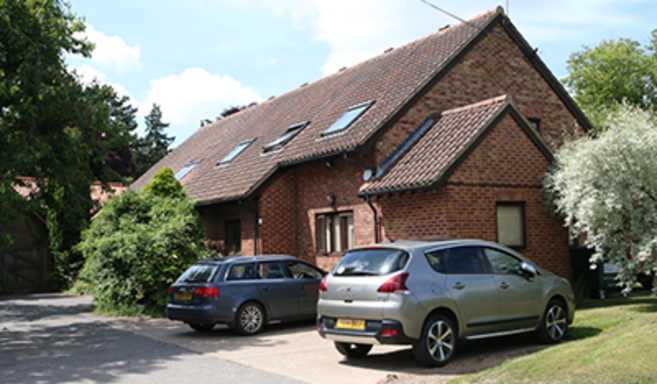 15-06-2020
We remain open and continue to work hard to keep our patients as safe as possible, along with our staff and our community by managing medical care remotely. This way of working has proved very successful and is reflected in the very low number of covid-related illnesses in our area.
Patient access to any Granta site continues to be by invitation only, following a prior telephone assessment and only when the clinician assesses that the balance of risk and need justifies a face-to-face interaction.
We are working hard behind the scenes to see how we can start to safely reintroduce various services and we will keep you updated via our website and social media.
We are very pleased to announce the appointment of Tim Harrison as our new Chief Executive Officer.
Having previously worked in the John Lewis Partnership for over 23 years, Tim is committed to taking Granta forward, shaping the "new normal" of primary care, and embracing the concept of a Primary Care Network.
Tim's vision is clear, "Granta Medical Practices are trail blazers in primary care services and I have been really impressed with their mix of professionalism and patient-centred care. Their response to the recent coronavirus pandemic has been exceptional and their commitment to the safety of their patients, their staff and their community is of paramount importance.
GP Managing Partner, Dr James Morrow, said "We are very pleased to welcome Tim to our team. More so than ever, primary care faces challenging times, and with Tim's expertise I know we will continue to adapt and develop, whilst taking full responsibility for working with our patients to promote health when they are well and to deliver the care needed when they fall ill."